Letter From Management
From our inception in Taipei City nearly six decades ago, Delpha Construction has continued its commitment to propagate the essence of quality Taipei architecture to all cities across Taiwan. Going forward, we will strive towards establishing Delpha Construction as a nationwide brand, maintaining our philosophy of "mutual positivity". We believe well-planned residences should encompass elements of sun, air, water, lighting, and ventilation; spaciousness; practicality; and generous storage. Quality homes crafted with these values emphasize the care and health of our residents, ensuring their positive experiences translate to word of mouth, and in-turn the growth of Delpha Construction.

Looking back on 2021, although the global COVID-19 have persisted across the globe, the Taiwanese real estate market has benefited from various factors; the return of Taiwanese expatriates and increased transparency of market information have both strengthened domestic demand and incentivized purchases. Delpha Construction have continued to cultivate suitable land in the greater Taipei region and along the MRT line, and further expanded our scope to cover commitments towards central and southern Taiwan. Our northern endeavors include 11 projects such as "The urban green" and Huaisheng urban renewal project in Da'an District; Taiyuan Road urban renewal project in Datong District; For Taoyuan, "Metro Building" and "Xinbi Section B" in Luzhu District, "Qingxi Section A", "Qingxi Section B" and "Sanzuowu Section" in Zhongli District, "Lejie Section A", "Lejie Section B" and "Shanjie Section" in Guishan District. For our 3 central and southern projects, there are "Xinzhan Section" and "Shingaotie Section" in Taichung's Shalu and Wuri Districts respectively; and "Qing'an Section" located in Tainan's Shanhua District. At the same time, we will keep a close eye on relevant issues pertaining to the ebb and flow of domestic economics, consumer livelihood and wealth. A prosperous future lies ahead for Delpha Construction with number of future projects expected to maintain a stable growth, and the management team will rise to the occasion and deliver results in-line with the support and expectations of shareholders.

The Company has also continued its diversified urban renewal commitments. Greater Taipei City initiatives elevate the city's aesthetics and environment; inviting nature with beautification for neglected sites and advocating for urban transformation to improve the lifestyle and convenience of residents. Delpha Construction is dedicated to the needs of all stakeholders to provide beautiful, quality, and smart homes; to do our part in improving urban aesthetics and living spaces.

Aside from steady day-to-day operations, Delpha Construction has also welcomed global environmental protection trends and societal needs. We pledge to adopt environmentally friendly materials and introduce green building certification for new projects; to reduce wasted resources and minimize the environmental burden of buildings' lifecycles. We will also strive towards symbiosis with nature and care for the environment. Sustainable management is Delpha Construction's primary goal.

The prosperity of a company needs to be built on a foundation of a society with harmony and happiness, and societal care and contributions are core principles of sustainable operations. Delpha Construction has always been understated sponsors of various contributions and cared for many people in need.

We will stay true to our founding aspirations and the responsibility entrusted unto us by countless families, maintaining the persevering spirit of "Cultivating Space, and Caring for the Earth". Delpha Construction will focus on every minute detail and continue to provide the houses of unforgettable memories for Taiwanese families.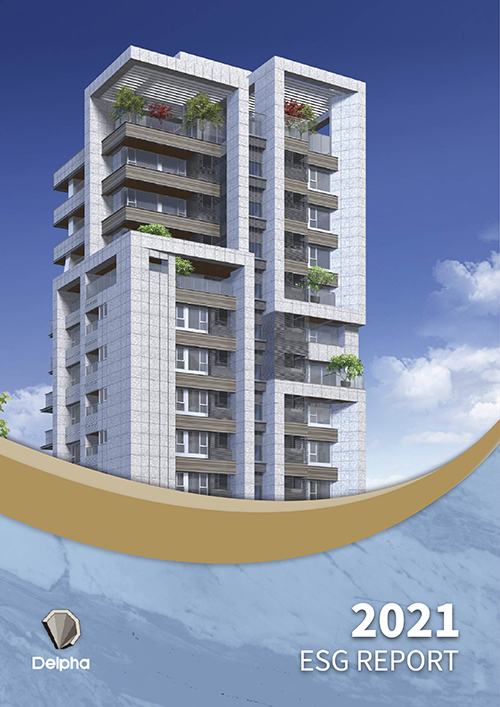 2021 Sustainability report
Implementation of Corporate Sustainability
Delpha Construction's Corporate Governance Office is the dedicated corporate social responsibility unit. Through meetings, the communication mechanism between various departments is strengthened, internal and external resources are mobilized as appropriate, and project planning and management are carried out when necessary; to achieve the principle of sustainable development of the enterprise, fully demonstrate the company's commitment to social responsibility. Grasping the overall social responsibility development trends at home and abroad paramount to Delpha Construction's efforts, and also provides opportunities for colleagues to participate in internal and external education, training and seminars, to continuously improve Delpha Construction's sustainability management concepts. The unit reports to the board of directors from time to time, and reviews the effectiveness of operations, and hope to achieve the goal of co-prosperity with all stakeholders, the environment, and society. Corporate social responsibility related businesses includes corporate social responsibility policies, systems and management guidelines. The formulation of various specific promotion plans,evaluations, planning, execution, communication, and relevant processes is promoted by senior executives to relevant departments to delegate and improve the sustainable positioning of corporate social responsibility within the Company and bring about the benefits to the stakeholders inside and outside the enterprise.
Summarize
Corporate Governance Office
Committee
Supply Chain Management
Environmental Sustainability
Customer Service
Employee Care
Community Prosperity
Corporate Governance
Responsible Unit
Engineering Management Dept.
Engineering Management Dept.
Business Dept.Business Dept.
Human Resources Team
Corporate Governance Office
Corporate Governance Office
Corresponding Material Topic

Procurement Implementation
Supplier Societal Assessments
Occupational Health and Safety

Environmental Regulations Compliance
GHG Emissions
Supplier Environmental Assessment
Effluents and Waste
Water Resource Management
Other Energies
Green Buildings

Market Positioning
Customer Health and Safety
Customer Privacy

Employee Relations
Training and Education
Employee Diversity and Equality

Local Community and Philanthropy Activities

Operational Results
Legal Compliance
Operational Risk Management
Whistleblowing Mechanism
Gifting or Improper Interest Related Procedures
Social and Economic Legal Compliance

Corresponding Stakeholder

Partners
Suppliers
Construction Companies
Sales Agencies

Partners
Suppliers
Construction Companies
Sales Agencies

Media
General Public
Employees

Shareholders
Investors
Financial Institutions
Government Agencies